This is a story about the very beautiful and highly endangered Sacramento Mountains Checkerspot Butterfly. It is a story that in equal measure gives pause and hope. Jackalope began a partnership and collaboration with the New Mexico BioPark Society last year. We renewed the commitment this year. Combined, Jackalope is on track to donate another $25,000.00, for a total of $50,000.00 to the NM BioPark Society https://www.bioparksociety.org We are donating 1% of sales to the NM BioPark Society until the end of September.
While Jackalope's campaign is focused on all native pollinators, it was this beautiful, endemic, and highly endangered butterfly that started the dialog. While still in its infancy, the BioPark and the organizations that it collaborates with are making huge strides to capture, protect and breed the butterfly. These pictures were just shared with us. We received and are delighted to share this summary from the BioPark:
New Mexico BioPark Society and ABQ BioPark employees, in collaboration with the US Fish and Wildlife Service and the US Forest Service, have been busy preparing a home for Sacramento Mountains Checkerspot Butterflies at the ABQ BioPark Bugarium. Over the last few months, we've put together a rearing facility which can hold up to 200 caterpillars. This week, our staff assisted in capturing three Sacramento Mountains Checkerspots which were rushed back to their new home at the BioPark. We've also been busy furnishing their new homes with New Mexico Penstemons, their favored food source. Two live plants were collected this week to serve as sites for the butterflies to lay eggs. We'll be expanding this number next week with 100 additional plants collected from the Lincoln National Forest with help from the Institute for Applied Ecology. These plants will feed the many hungry caterpillars we hope to house in the coming months and will provide a sustainable source of food for the caterpillars we hope to host in the future. Through our partnership with Jackalope, we hope to ensure this species graces the meadows of the Sacramento Mountains for many years to come.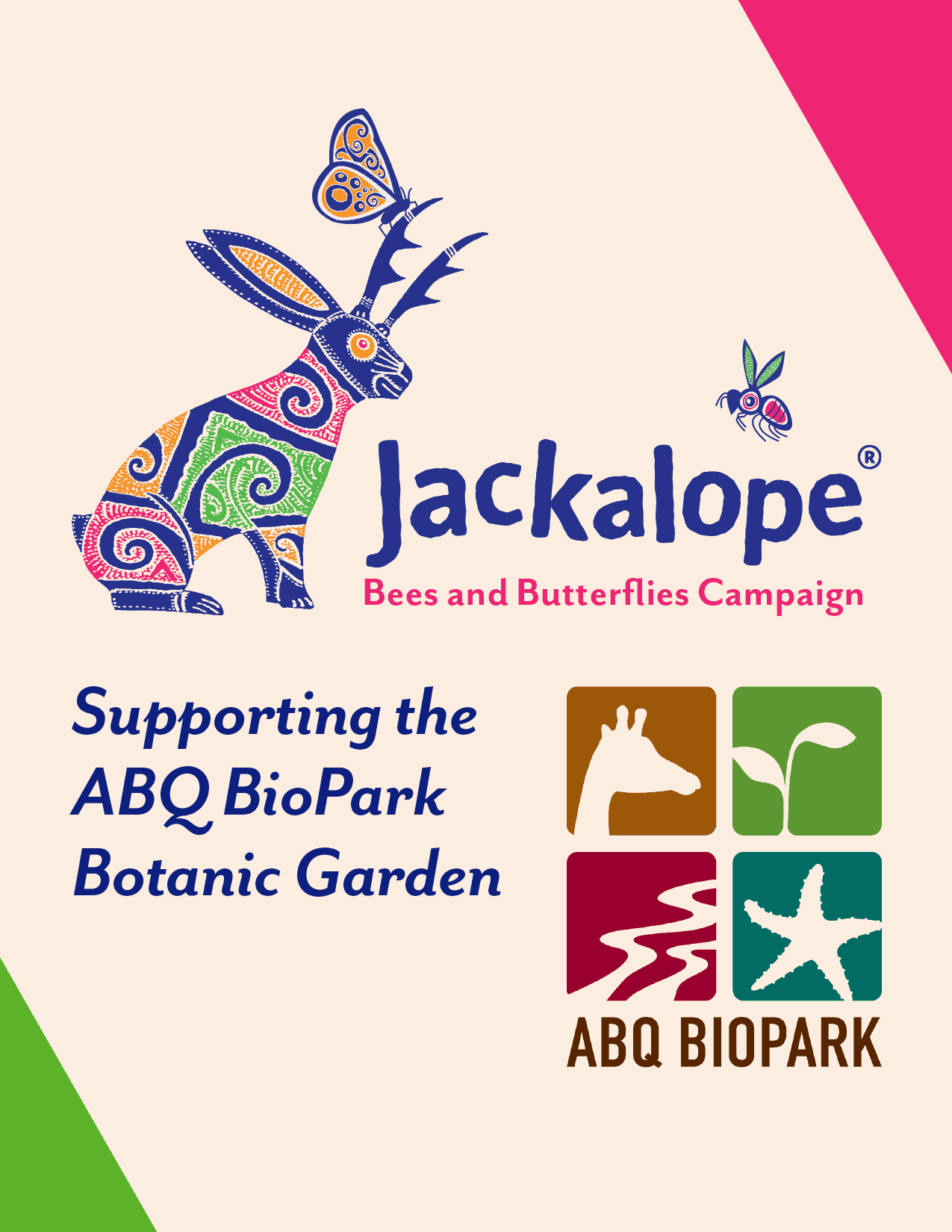 The last two and a half years have been and remain remarkable if not tumultuous for all of us. Since the spring of 2020, Jackalope has made a concerted effort to support local not-for-profits. We have had three campaigns with Roadrunner Food Bank and have raised more than $70,000. Roadrunner Food Bank prepared this video for us. We are delighted to share it with you. The work they do is incredible and the need has never been greater. We will definitely be scheduling another campaign with Roadrunner later this year. As always, we can only do this with the incredible support of our customers.
GET THE LATEST NEWS FROM JACKALOPE COUNTRY
SIGN UP FOR THE LATEST NEWS, GREAT DEALS & SPECIAL OFFERS FROM THE LAND OF JACKALOPE!